Located in Hudson, Florida
VISIT more of our pages. If using your phone click on 3 lines on the upper right corner of your screen.
CONTACT US:  813-335-4728 text or call  OR email: myfloridapuppy@gmail.com
 Updated 1-26-23 
One Male Malshipoo Available.  Born December 27th.

( see photos below!)  Pups will be around 12-15 pounds full grown.  Brown/White Parti Available.  Pup will go home  February 21st. $1995 Deposits $500.  Text if wanting to see a video of the pup 813-335-4728
Cockapoos Due March 1st.

Accepting deposits! $2500 (Deposits $500) All Buffs and Reds  expected.  Will go home in late April or early May depending on day of delivery. 
1 Male Malshipoo Available.  Will go home February 21st.  12-15 pounds full grown.   $1995.  Deposit is $500  Individual photos coming soon.   
NEWS: 1-26-23

 $2500 ( Deposits are $500) Sara's Cockapoos located in Clearwater/St.Pete area has a new litter of COCKAPOOS that will be ready to go home the end of February.  Mom "Tilly" is the photo in the middle and Dad "Raylon" black/white on the bottom left.  4 male pups are available ( all in front) and 1 female ( in the back white/tan sitting up) All Will be 20-25 pounds full grown. Text them for more info on their litter at 727-417-5202 or email them at ourcockapoos@gmail.com  

We are a licensed kennel and located in  Hudson Florida which is 35 miles north of Tampa and 50 miles from the Clearwater/St. Petersburg area. We specialize in Cockapoos, Cavapoos, Maltipoos, Shih Poos and Malshipoos. We offer delivery service to your home within a 5 hr drive and we have our own personal drivers that work specifically for Robin's Pups. We also have a local trainer we refer clients too for those wishing for training as well as boarding after your pup goes home. You can find out more about these specific services on our Training and Delivery page ( click on Available Puppies Page and then click on the subtitle) 
We do all our own grooming for our cockapoos, poodles, shihpoo parents, maltipoo parents, and cocker moms.  All our parents are on site as well and we have raised them all from babies.  We also keep the majority our retired parents and currently have several that are 13 years young. They live out their days playing and living in the  home they have been raised in.

​We strive for excellence with our business, doing our best to give our customers the best experience they can have when choosing to buy a puppy from us. We don't want to be just a dog breeder but someone who cares about the right puppy for the right family. We give you the tools needed to be successful as a dog owner.  Want more information on which breed is right for you?  Visit the "Breed Info and Photo Page". We give information on Maltipoos, Cockapoos and Shih Poos as well as photos from previous owners in order to help you make the right decision for your household.   Please browse through our site by just clicking on the tabs, for photos, information, pricing,  and useful information if you are looking for a new little canine for your family. Thank you for visiting our site.
    A BIG THANKS to all our wonderful clients who have sent these great photos of their adult dogs for us to share with our viewers!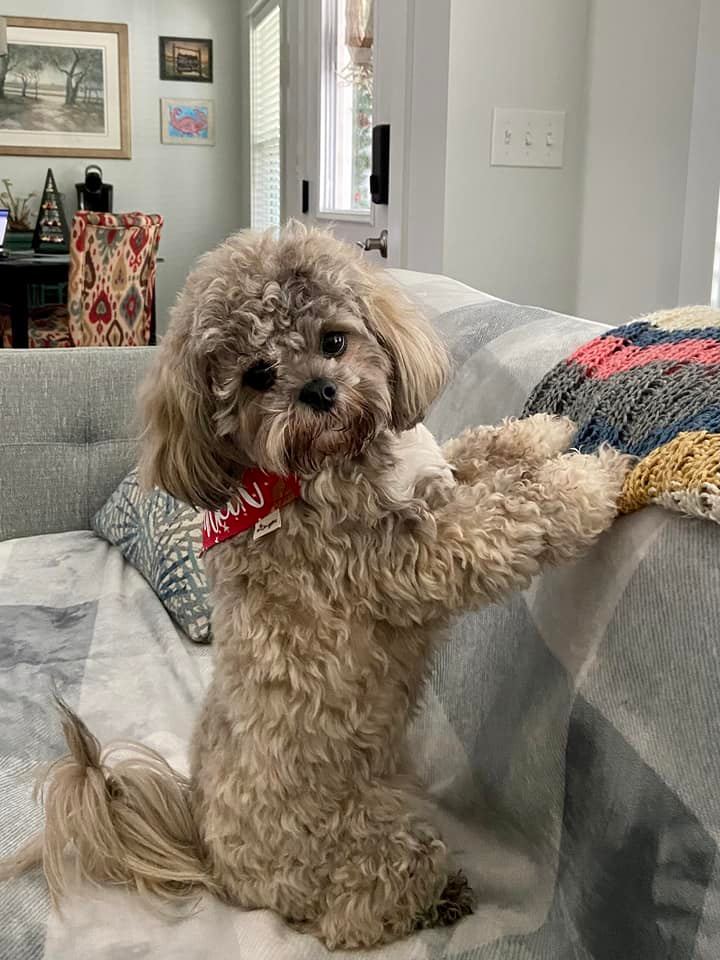 Our Puppy Training
We pad train all the puppies, introduce a doggy door to them so they learn to go outside to potty with their mom.
Our Kennel
Our kennel is 1000 sf, air conditioned, heated, with doggy doors for indoor/outdoor runs. As well as a play area where all the dogs interact and play daily. 
Our Deposits
$500 Non-Refundable deposit is required to be on any of our moms upcoming litters.
Our Price Includes
Health Certificate, first shots, de-wormed, a fecal, a physical at 8 weeks, bathed, flea control & nails trimmed. 1 Year health guarantee included.